from
USD 480.-
per person
per day for a minimum of three days
inclusive of wellness programme and wellness cuisine
HEALING FOCUS
Ayus Wellness at Mulu Marriott is built in the heart of the Borneo rainforest, but what makes it truly special is the way it places the forest at the heart of all that it offers. Ayus Wellness specializes in immersive forest wellbeing experiences:
Try rainforest, canopy and ancient cave walks; indigenous rainforest medicine tours; yoga, meditation and mindfulness; relaxing massages; and a sleep enhancement program. 
Their wellbeing and beauty program draws on both science and indigenous knowledge to create a unique experience that is deeply rooted in this magnificent wild and ancient environment. Enjoy a boost in energy, improved sleep, and a sense of connectedness with nature.
GALLERY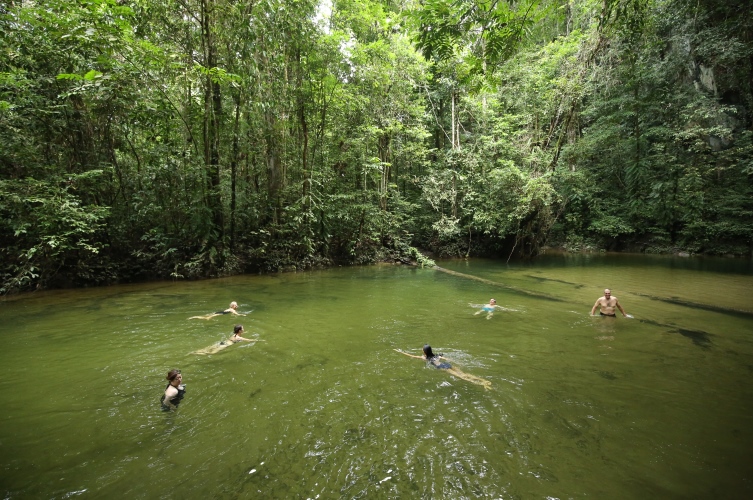 ABOUT
Ayus Wellness at Mulu Marriott is situated just five minutes from Gunung Mulu National Park, a UNESCO World Heritage site, home to a 60 million year old primeval rainforest, Asia's longest cave complex, and pools fed by the mineralized waters that flow through the caves.
With architecture inspired by traditional Borneo longhouses, the resort is elevated on wooden walkways, and seems to float within the rainforest, rather than trying to keep it at bay. Thus it is the perfect starting point for a transformative and healing journey with Nature. The Borneo-themed vegetarian (largely vegan) menu, indigenous massage therapies, unique rainforest aroma oils, as well as medicinal plant discovery and forest canopy walks are unique experiences that encourage you to commune with nature. The knowledge sessions go deep into the philosophy and science of forest immersion as well as into the science behind the pathways to mental wellbeing.
As you'd expect from a Marriott, the traditional longhouse touches are balanced by modern, luxurious rooms with supremely comfortable beds, elegant bathrooms, and private balconies. And if you get tired of exploring the rainforest there's a central pool where you can swim, relax, and enjoy poolside dining.
93 Premier Rooms
8 Suites, including 1 Presidential Suite
Facilites
4 treatment rooms
Gym with Life Fitness equipment
Steam shower cubicle in each treatment room
Treatments
De-stress, Healthy aging, Indigenous techniques, Meditation, Sleep medicine, Yoga, Forest immersion, Indigenous deep tissue massage
One restaurant, offering indoor and poolside dining
Ayus Wellness cuisine is almost entirely vegan, with one or two vegetarian dishes
Local Sarawakian produce is sourced from nearby fresh markets, local farms and smallholdings. All the rice used at the resort is grown nearby in the Bario region
Boating to deep forest destinations, Climbing, Hiking, Cave exploration, Rainforest canopy walks, Swimming in Clearwater Pool
LOCATION
Ayus Wellness is located in Sarawak, Borneo, Malaysia, adjoining the UNESCO World Heritage-listed Gunung Mulu National Park.
How to get there
Nearest airport: Mulu airport (less than 3 km from the resort, a 6 minute drive)
Daily flights to Mulu from Kota Kinabalu in Sabah, and Miri and Kuching in Sarawak
Ayus Wellness at Mulu Marriott Resort and Spa
12 Pekan Mulu, Sarawak, Borneo,
98070
Malaysia
www.ayuswellness.com