from
EUR 200.-
double bedroom
Book now and get a free
HEALING EXTRA:
• 60 minutes somatic body work or massage session if the booking is for minimum 3 days
HEALING FOCUS
When the founders of Dojo Bianco envisioned this unique rural retreat they wanted to create a 'healing farm' where guests could come to not only enjoy the beautiful Tuscan landscape, but also experience the power of healing practices, reconnect with nature, and have the opportunity to embark on a journey of self-discovery and personal growth.
Dojo Bianco's approach to healing and coaching is based on the methodology of world-leading organizations such as the Barbara Brennan School of Healing in Florida and California's Strozzi Institute.
Underpinned by a belief that transformation happens through the body, Dojo Bianco's somatic approach to healing translates to an offering that includes Yoga, meditation, sound therapy, healing, coaching and the Equine Guided Education treatment.
GALLERY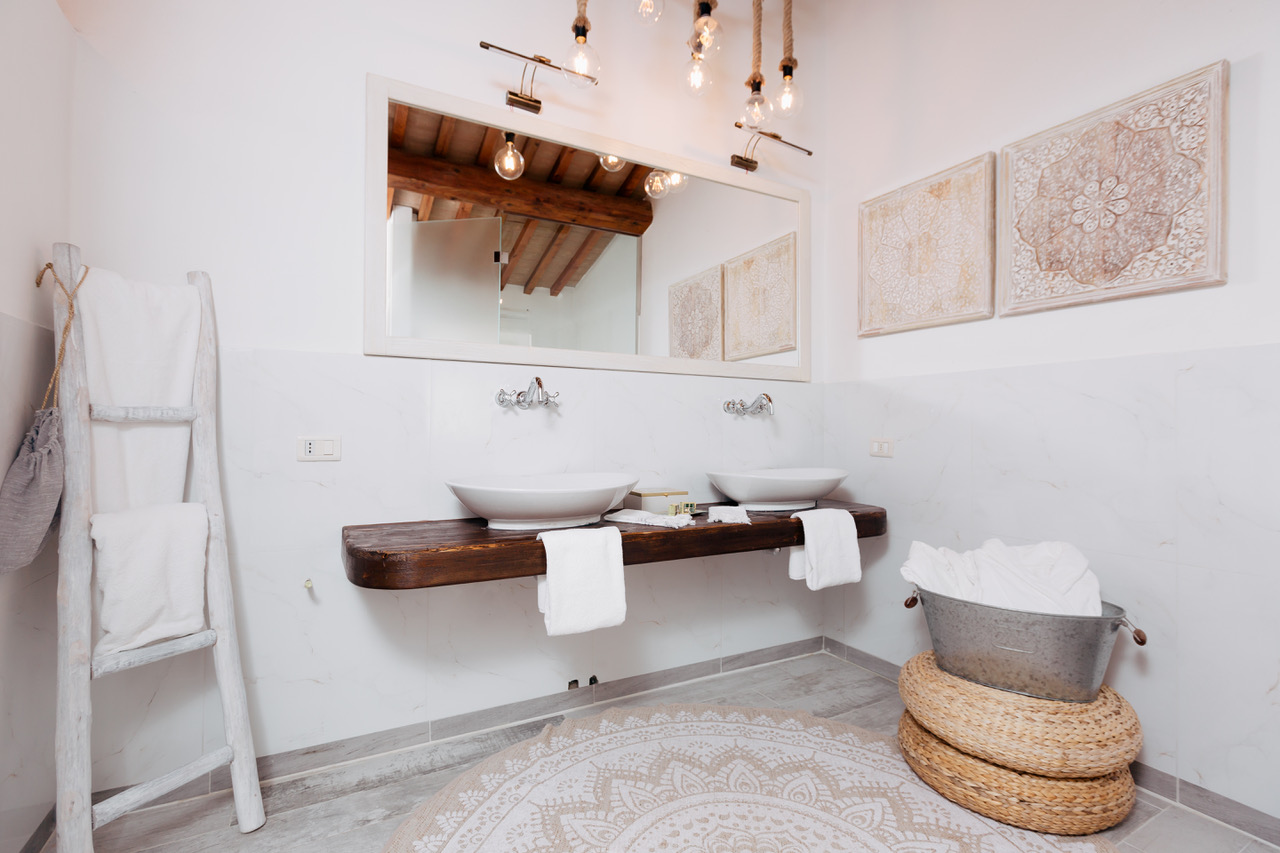 ABOUT
At Dojo Bianco the day might start with an early mindfulness meditation or Pranayama practice and end with a gong bath therapy, healing or somatic coaching session.
With just four guest rooms, Dojo Bianco offers a distinctly intimate and authentic wellness escape with a focus on delivering a personalized and customized healing experience guided by experienced healers and practitioners.
Located on a 20-hectare farm in rural Tuscany, Dojo Bianco is surrounded by horse paddocks, neighbouring vineyards and organic farms. The retreat also has its own organic gardens and 350 olive trees from which it produces its own extra virgin IGP-certified olive oil.
Within easy reach of the beautiful Maremma coastline and the medieval city of Massa Marittima, Dojo Bianco also offers the opportunity to experience the art, culture and scenery that the Tuscan region is so famous for.
«A personal exclusive healing experience surrounded by the wonderful Tuscan landscape.»
4 double bedrooms located in an original 16th century Tuscan stone house – all with views of the farm and horse paddocks.
Facilities
Dojo – dedicated Yoga, meditation and healing studio
Art studio
Treatments
Somatic coaching
Sound therapy (gong bath and alchemy crystal bowls)
Energy therapy
Lifestyle coaching
Equine Guided Education
De-stress programs
Dojo Bianco offers a healthy, light cuisine featuring organic produce grown by local farmers and the retreat's own organic garden. Award-winning organic wines form the family's own selection is also part of the Dojo Bianco experience.
Yoga – Ashtanga, Vinyasa Flow and Yin
Meditation
Biking
Horseback riding & Equine Guided Education
Cooking workshops
Painting and crafts in the dedicated Art Studio
Exploring local attractions including the nearby cultural cities of Massa Marittima and Maremma; and Punta Ala and Castiglione della Pescaia beaches.
SIGNATURE PACKAGE
Dojo Healing Therapy
Inclusions:
Accommodation
Daily breakfast
3 body wake up session and meditation (1 hour)
1 Ashtanga or Vinyasa yoga session or 1 Evening Gong Bath sound therapy (1 hour)
1 healing /somatic body work session (1 hour)
1 session of Equine Guided Education (2 hours)
Price
from EUR 1,000.- per person, 2 nights
LOCATION
Dojo Bianco is located in the Maremma region of Tuscany, just a 10 minutes drive from the beautiful medieval village of Massa Marittima and 25 minutes from the beaches of Punta Ala and Castiglione della Pescaia. Set on a 20-hectare farm, Dojo Bianco is surrounded by olive and fruit trees, vineyards and horse paddocks.
How to get there
Located just outside from Massa Marittima, Dojo Bianco is accessible by:
Plane: to Pisa (107km away) or Rome (215km away)
Train: to Follonica (25 km) or Grosseto (30 km)
Airport and train station transfers are available on request.
Dojo Bianco
Via Marsiliana 40
Massa Marittima Gr
58024 Tuscany
Italy
www.dojobianco.com/